Jersey traders say road works delay 'costing thousands'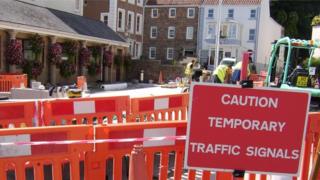 Traders in a Jersey village say they have lost hundreds of thousands of pounds because of summer roadworks.
A group of them are now considering withholding a portion of parish rates in protest.
David Pallot from Portside studio in St Aubin said takings were 50% down and other shopkeepers in the area had suffered the same problem.
St Brelade Constable Steve Pallet, said the traders had been fully consulted throughout.
Mr Pallot said villagers were originally told the work would be finished by Easter, but says its now not due to be done until November.
He is part of the St Aubin Traders Action Group, which has been formed in protest at the damage to business they claim the work has caused.
He said some members may seek compensation for the disruption and loss of business they claim has been caused by improvement works in the area.
Chris Sampson, of the Transport and Technical Services department, which is carrying out the work, said there was never any discussion of the work being finished as early as Easter.
He said traders were given the option for the work to stop during the summer months, but opted not to take it. However, the traders dispute this.