Jersey real wages grow 1% in a year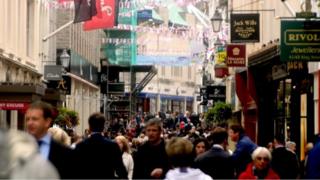 Real wages in Jersey have grown by 1% over the past year, new figures show.
Latest States figures show a 2.6% increase in earnings, offset by a 1.6% increase in prices.
Average wages were £670 a week, with hospitality workers earning £380 weekly and finance staff earning £940, not including directors and senior executives.
After finance, the next best paid workers were those employed by the States.
Jersey's public sector is the island's biggest after the financial industry.
'Positive sign'
Deputy Chief Minister Ian Le Marquand cautiously welcomed the news.
"There's some good news in as much as it's the second year in a row where earnings increases are higher than the cost of living," he said.
"It appears to be a positive sign but it's only one thing."
He said future growth would depend on employment and profitability in the financial sector, which accounts for 25% of Jersey's workforce and 40% of economic output.
"The economy on the whole is not performing particularly well," said Senator Le Marquand.
"We're seeing some signs of positive sentiment for the future but we're not seeing that coming through in reality."
Duncan Gibaut, Jersey's chief statistician, said apparent strong growth in public sector wages was the result of a recent three-year pay deal.
Over the past three years, he said, public and private sector wages had both grown by about 2% a year.
A pick-up in house prices or interest rates could boost price inflation, he added.