Italian family miss ferry to look for missing dog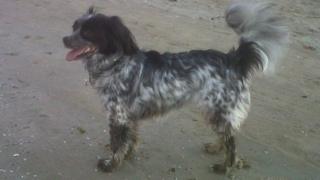 An Italian family on holiday in Jersey are staying on the island until they find their dog.
The black and white Cavalier King Charles-setter cross-breed is called Fabri and escaped from St Martins Kennel on Sunday at around 14:00 BST.
Hein Jan Gerrits was meant to sail to France on Monday with his family but has cancelled the booking.
Fabri was spotted in St Martin and may be trying to find its way back to the Rozel Campsite, said Mr Gerrits.
He said his phone number was on the dog's collar, not including the Italian dialling code 0039.
"There are so many people walking and on horseback, somebody should see her," said Mr Gerrits.
"She's a fantastic dog."