Military museum's disruption concerns in nightclub redevelopment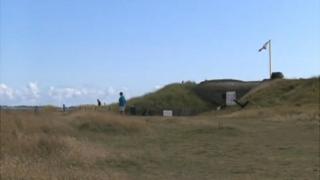 The owner of a museum in Jersey says he hopes he will not suffer disruption after a neighbouring former nightclub site is sold to developers.
The site of Chateau Plaisir is due to be turned into three houses.
The founder of the Channel Islands Military Museum, Damien Horn, said he was facing losing his power supply, parking spaces and signage as a result.
New landowner Julian Smith said he would do all he could to help the attraction continue.
The museum in St Ouen's Bay, which has been at its current site for quarter of a century, is within the plot of land being sold to Mr Smith.
Although it is to stay, the area it uses for parking and displaying signs will belong to the new owner. It also uses the site's electricity connection.
Mr Horn said: "It's the height of the season, it could have have been better timed; but these things happen and I hope we can come to a quick solution."
Another nearby car park could be an alternative but it could be difficult for older or disabled visitors, he added.
Julian Smith said: "We're doing all we can to help Mr Horn make adjustments so he can continue to offer great service at that what is an excellent visitor attraction."
"To that end, we're keeping the power on as long as possible, and will try to help him with an alternative electricity source while building work is going on, until he makes a permanent alternative arrangement."