Gina, Durrell's oldest orangutan, dies at 51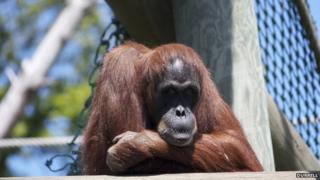 The oldest orangutan at Durrell Wildlife Park in Jersey has died.
Confiscated from smugglers in the 1960s, Gina reared six young and featured in several television programmes.
She was the first orangutan to give birth by caesarean section and the first scientifically proven to have gone through the menopause.
Researchers say observations of Gina have furthered understanding of the relationship between apes and humans.
'Fiery temper'
A spokesperson from Durrell Wildlife Park said Gina died "without any obvious signs of distress" having spent 46 of her estimated 51 years there.
Gina featured in Refugees of the Lost Rainforest on BBC1, on BBC Radio Jersey and in recent months was in the Channel 4 documentary series Born in the Wild.
This showed the birth by caesarean section of her final child Jaya, and the uncovering of Gina's post-menopausal condition 10 years later.
Gordon Hunt, her long-term keeper, said: "Gina was my favourite orangutan.
"She was an amazing mother to her many offspring, showing great attentiveness and care, but she also had a wicked and fiery temper.
"She will be sorely missed, but fondly remembered."