Damage found to sea maerl off Jersey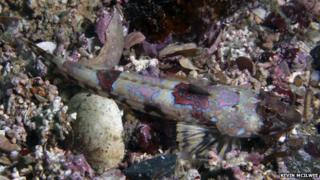 Researchers say they have discovered damage to underwater beds of a coral-like seaweed off Jersey.
Sea maerl, found in shallow waters, is a pink calcified seaweed which hosts a variety of other marine species.
Divers for Seasearch, a conservation group, said the damage could have been caused by scallop dredgers or storms.
States environment officials said they were currently negotiating with fishermen from Jersey and France over new restrictions on dredging.
Kevin McIlwee, a Seasearch co-ordinator, who has been documenting maerl beds, said he had seen damage caused by dredging.
Storm damage
"We're interested in finding out to what extent this has affected the species and work out whether there is a possibility these areas will recover," he said.
"It's not just dredging, you have potential storm damage, but there does seem to be damage caused by this type of fishing."
He said he favoured education of fishermen rather than further controls.
Plymouth University student Sam Blampied, who has analysed Seasearch data, said maerl acted as a nursery for fish and scallops and so replenished marine stock.
"If you take samples from areas which aren't so healthy, where perhaps they've been dredged, we're not finding so many species," she said.
"In one sample we didn't find any at all."
Scallop dredging is already restricted in many Jersey bays but Seasearch said it had found damaged maerl off Les Ecréhous, a string of rocks between Jersey and France.
Waters around Les Ecréhous are governed in co-operation with France.
Greg Morel, of Jersey's Environment Department, said he expected Jersey to reach a deal with France over new restrictions by October.
Don Thompson, president of the Jersey Fishermen's Association, said fishermen had already given up a lot.
"We understand the need to protect the seabed that provides our livelihoods," he said.
"But we sometimes feel some of the actions taken are unreasonable."