Jersey lifeboats tow damaged yacht to safety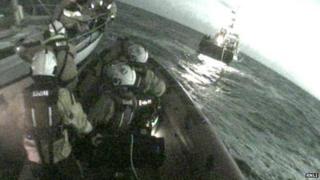 A damaged yacht which was drifting towards a reef off the Jersey coast has been towed to safety.
Two lifeboats helped the French yacht which had a broken mast, no power and was heading towards Paternoster Reef.
The St Catherine's lifeboat secured a tow to the craft to stop it hitting the reef.
The RNLI was called to help the craft at about 20:10 BST on Wednesday. No-one was seriously injured. The yacht was then towed to St Helier.