Guernsey 'harasses' Jersey fishermen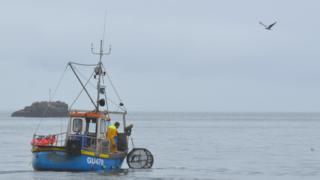 The Jersey Fishermen's Association has said Guernsey authorities are unfairly cancelling or revoking licences for Jersey boats to fish in Guernsey waters.
Don Thompson, association president, said the problem had destroyed some fishermen's incomes.
He claimed there was no political will in Guernsey to improve relations.
Guernsey's commerce department said it was acting within legislation and did not accept relations were poor.
The issue dates to last year when new rules were introduced governing previously unregulated fisheries around Guernsey.
Mr Thompson said implementation of the rules had disproportionately targeted Jersey fishermen.
He said one association member had his licence revoked after moving to an address four streets away.
'Healthy' relationship
"We have tried numerous times, as have our own officers and authorities, to broker talks and get relations back on track," said Mr Thompson.
"It's important we work together but at the moment there seems to be no will whatsoever from Guernsey on the political side."
Deputy Carolyn Labey, Jersey's minister for fisheries, said Guernsey authorities were being heavy-handed.
"It certainly seems like harassment and discrimination," she said.
"The punishments Guernsey is handing out to Jersey fishermen are expensive, heavy-handed and quite unnecessary."
A statement from Guernsey's Commerce and Employment Department, which issues fishing permits, said relations between Jersey and Guernsey were healthy.
It said licences to fish in Guernsey waters were issued in accordance with the law and dissatisfied applicants could appeal to Guernsey's Royal Court.
The statement reads: "Whilst fishing in the three to 12-mile area around the Bailiwick was not regulated by licensing until 2013, it is now and that does introduce some constraints on access."