Bracken threatens stonechat habitat in Jersey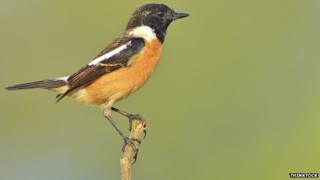 The habitat of one of Jersey's rarest birds is under threat from bracken.
The stonechat, a robin-sized bird, thrives in heather and other vegetation on the island's headlands.
But the greenery in areas such as Les Landes, which provides food for the birds, is being choked by bracken.
Chris Sellares, from the National Trust's Birds on the Edge project, said stonechats used to be widespread but have declined due to loss of habitat and changing farming practices.
She also said a series of cold winters in the 1980s caused the population to decline.
Too thick
"The population is very low," said Ms Sellares.
"Last year was a bit of a worry because we could only find two pairs, which is very small compared to the 40 or 50 pairs we had years ago.
"This year we looked more closely and found five different pairs."
Bracken, said Ms Sellares, is growing particularly fast this year because of the warm weather.
It is too thick and provides no food for the stonechats.
Bracken also propagates underground, rather than dispersing seed, which means it spreads quickly and is difficult to control.
Environment department officials are removing bracken on public land and encouraging grazing animals to trample the vegetation, but Ms Sellares would like to see similar action taken on private land.