'Voyage from hell' leaves three hurt and 41 cars damaged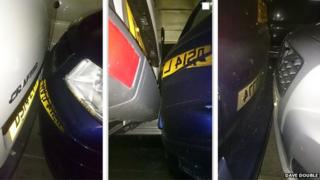 Three crew members were injured and 41 cars damaged during strong winds on a ferry crossing from Weymouth to Jersey.
The Condor Vitesse sailing had departed Weymouth at about 13:00 BST on Sunday afternoon.
One passenger described the sailing as "the voyage from hell".
Captain Fran Collins, from Condor Ferries, said wave heights had stayed within safe limits throughout the journey.
However, she said unexpectedly high waves around the Casquets Lighthouse caused problems despite the boat slowing down.
'Smashing'
Adam Spur, who was on the crossing, said many passengers were sick.
"The boat was going side-to-side quite a lot and crashing into waves," he said.
"I would say out of the passengers on the journey, about 80% were falling ill.
"We could hear bits-and-pieces in duty free falling about and smashing... and from what I understand, pretty much every car on board had gone into the car next to it."
Condor said it was working with passengers whose cars were damaged to help resolve their claims.