Jersey mobile phone companies 'could do better'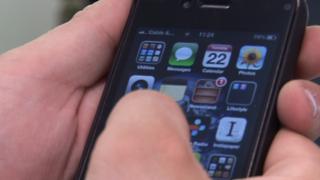 Jersey's mobile phone providers could do better, according to a report by the competition watchdog.
About 90% of Sure customers, 67% of Airtel-Vodafone customers and 55% of JT customers were happy or very happy with service quality.
Less than a third of JT customers were happy with their billing while 80% of Sure customers said billing was satisfactory or highly satisfactory.
Graeme Millar, CEO of JT, said the quality of its service was improving.
A total of 500 customers throughout the Channel Islands were questioned for the survey.
The Channel Island Competition Regulatory Authority (CICRA) survey suggested only 8% of of mobile phone users had changed provider in the past six to twelve months but 31% said they would be likely to change in the future.
Mr Millar said States-owned JT was holding its own against major global companies.
Graham Hughes, CEO of Sure in Jersey, told BBC News he was very pleased with the survey results.
"Quite often these surveys look at one particular aspect but we look at this as an overall endorsement," he said.
"Ninety per cent are pleased but that suggests 10% are not satisfied...we recognise we don't get it right all the time."