St Aubin's Bay 'sea lettuce' removal calls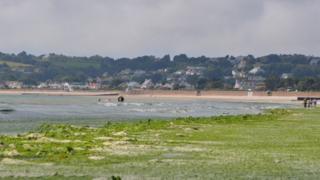 A thick layer of green sludge on one of Jersey's longest beaches should be removed, says an island politician.
Constable Simon Crowcroft says so-called "sea lettuce" smells and puts off tourists.
Sea lettuce is properly called "ulva" and appears in St Aubin's Bay every summer. Residents say it is particularly thick this year.
States workers do move the weed down to the shoreline at low tide but Constable Crowcroft says the tide brings it back.
He suggested it could be burnt or used as fertiliser.
'Atrocious smell'
Kevin Lewis, Minister for Transport, said his department was doing all it could but the weed was too wet to burn and too salty to use as fertiliser.
Hundreds of tonnes of weed is moved to the shoreline on specific tides, he said. These are selected to maximise the weed's chances of being swept away by currents.
"We're limited with what we can do with it," said Deputy Lewis.
"You can't leave it to rot because the smell would be atrocious."
Constable Crowcroft claimed environmental officials, who issue permits for work carried out on the beach, were preventing Transport and Technical Services (TTS) from removing the weed altogether.
Dr Tim du Feu, Director of Environmental Protection, said this was not true but TTS had to find a suitable disposal method.
No suitable means of disposal is currently available on the island, he said.
The long-term solution, said Dr du Feu, is to prevent nitrates in wastewater and agriculture finding their way to the shore and promoting sea lettuce growth.