Plemont headland: National Trust plan to restore site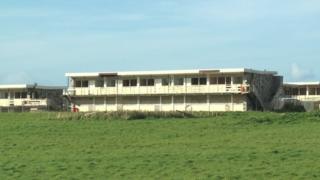 A former holiday park which was sold in a multi-million pound deal could be demolished by spring 2015, allowing the National Trust to restore the site.
On Friday, The Plemont headland became the property of the trust after a hearing in Jersey's Royal Court.
It said it planned to convert the ex-Pontins site back to being a natural environment.
The charity is advising people to stay away from the site because it is "riddled" with asbestos.
The £7.1m sale was made possible after the States voted to pay half the amount.
Charles Alluto from the trust said work should start in the autumn.
He added: "We would ask people to bear with us and we will endeavour to make it as accessible as early as possible."