Neil Faudemer fails to complete Jersey-Guernsey swim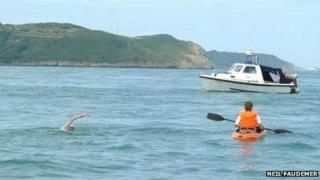 A veteran swimmer making his fourth attempt to swim between Guernsey and Jersey had to call it off at the halfway point.
Neil Faudemer said he had been feeling ill for the whole six and a half hours he was in the water. He stopped when he started to get dehydrated.
In 2012 he came within 500m (1,640ft) of finishing the 32km (20 mile) swim.
The only person to complete the swim was Ruth Oldham in 1962 in just over 15 hours.
Mr Faudemer said he would now retire from solo long distance swimming.
He said: "I think I have finally laid it to rest but I had to have one more attempt. I wasn't very well in the water and when you can't take fluids you eventually become dehydrated.
"Eventually you have to make a decision and it wasn't fair on the support crew, I had to come out of the water."
In August 2013 he had to call off his third attempt at the swim after six hours in the water after falling unconscious from hypothermia.
In July he was part of a relay team that swam the 44 miles (71km) between Saint Malo in France and Jersey.