Work begins on Jersey's Gorey Pier repairs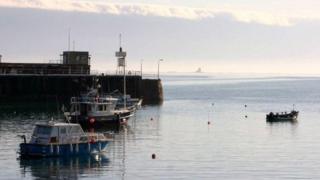 Work has started on the strengthening of Gorey Pier's foundations after they were damaged by heavy winds and high tides over the winter.
The £2.2m project is being paid for by the Ports of Jersey trading fund.
The Transport and Technical Services department found cracking and movement in the concrete.
Islanders will still be able to use the pier during the work. The Port of Jersey said the disturbance to boat owners and businesses would be minimal.
Transport Minister Deputy Kevin Lewis said the deck at the end of the pier was also getting worse.
He said it was particularly bad where the pier had no foundations beneath the outside wall.
"The masonry is sitting directly on sand between the natural rock nearer the castle and newer sheet piles at the outer end," he said.
Work will be carried out at low tide and is expected to be completed by the end of 2014.