Jersey inflation rate slows slightly to 1.7%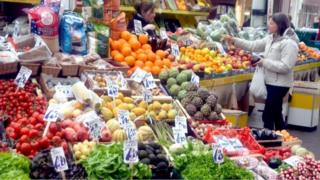 Jersey's rate of inflation has slowed slightly according to figures released by the island government.
The annual rate of inflation measured in March was 1.7%. The year to June measurement was 1.6%.
Figures from the statistics unit show that while food and leisure goods went up in price, they went up by less than the year before.
Household services, such as phone and postage costs, had increased the most, up by about 6% over a year.
The Retail Prices Index (RPI) is the main measure of inflation in Jersey.
Duncan Gibault, from the States of Jersey statistics unit, said they measure the change from quarter to quarter in the price of the goods and services purchased by an "average household".
He said: "The RPI is compiled using a large and representative selection of over 500 separate goods and services.
"The price movements for each of these are measured at a representative range of outlets.
"About 2,500 separate price quotations are used each quarter in compiling the index. Prices are measured on or around the 15th day of March, June, September and December."