Jersey public to be asked over constables in referendum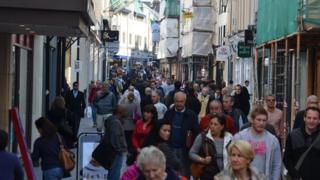 The public will be asked to vote in a referendum this autumn on whether constables should remain in the States.
In a vote in the States, politicians elected to change the question originally proposed by the privileges and procedures committee (PPC).
The original question was whether there should be 49 members, elected to the same office and in seats proportional to population.
Now people will only be asked if constables should be in the States.
Jersey has three types of politicians. Deputies elected to small districts, senators elected to represent the whole island and constables elected as head of their parish and sit in the States through that office.
Deputy Andrew Green, who brought the amended proposition, said there was no consistency over whether people felt there should be constables in the States.
He said: "The truth is we just don't know what the electorate want and we have never asked them. Therefore I would respectfully suggest it's time we did."
PPC chairman, Deputy Jeremy Macon, said only asking about constables would not give a clear indication of the public's thoughts on reform.
He said: "It would not advance decisions about reform at all and would simply result in discussions regarding the reform of the States Assembly being further delayed."
In April 2013, Jersey voters decided to back plans to do away with the role of senator, while electing 30 deputies in six large districts, along with 12 constables.
However, the result was not binding on the States which rejected the public's choice in July 2013.
The referendum will be held on the same day as the general election, on Wednesday 15 October.