Smoking banned in cars with children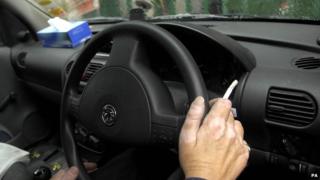 Jersey has become the first place in the British Isles to ban smoking in cars carrying children under new rules passed by the States assembly.
A health department survey last year suggested islanders supported extra measures to protect children from second-hand smoke.
About 20% of people in Jersey smoke, and there is already a ban on smoking in enclosed places.
Drivers aged 17 will not be allowed to smoke at the wheel.
Deputy Anne Pryke, the island's health minister, lodged the amendment to Jersey's 1973 smoking law.
'Devastating effect'
During Tuesday's debate she said evidence of harm caused to youngsters by smoke in cars was "convincing".
"Smoking is one of the biggest causes of premature death and ill-health in Jersey, yet every day we see children coming into contact with second-hand smoke which can have a devastating effect on their health.
"We also know that children who see adults smoking are more likely to smoke."
Smokers will be banned from lighting up in cars carrying passengers under the age of 18.
Senator Sarah Ferguson, an ex-smoker, said: "Since when is it appropriate for the States to act [in the place of a parent], because that is what is implied by this proposition. It is not for the States to dictate lifestyles."
The amendment was passed by 42 votes for and four against.