Condor Ferries gets 10-year licence application approval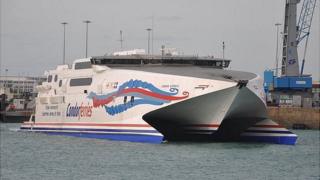 Condor Ferries has been given approval to apply for a 10-year licence to run ferry services between the UK and the Channel Islands.
The non-exclusive agreement will allow them to operate passenger, vehicle and freight services until 2024.
Condor say the agreement means they can invest in a new, larger fast ferry to replace the existing two.
Guernsey's government has also agreed to extend a "memorandum of understanding" with Condor until 2018.
Jersey officials have negotiated a get-out clause that comes in after seven years if things are not running as expected.
Senator Alan Maclean, the Economic Development Minister, made the announcement in the States of Jersey on Monday.
Other operators
He said other ferry operators were welcome too, but they had to provide the same level of service as Condor.
He said: "The new ramp permits, when issued, will be non-exclusive. A competitor that may wish to operate will have to provide a similar service to the incumbent provider.
"Any bona fide ship operator can apply, at any time, to run a similar service and the harbour master will be required to give them consideration."
Deputy Paul Luxon, chairman of Guernsey's external transport group said they had no mechanism in the island to provide a guaranteed licence like Jersey.
He said: "As an interim measure, Guernsey is proposing to extend the memorandum of understanding that it currently has in place with Condor to match the duration of the island's joint policy statement."
The chairman said they would take proposals to the States later in the year to create legislation that would "more formally safeguard the Island's Roll On/Roll Off sea link connectivity".