Jersey Police firearm officers to get Tasers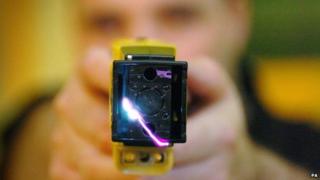 Firearms officers in Jersey will be able to deploy Tasers from October.
City of London Police officers are in the island to show them how the weapons work and how to use them safely and efficiently.
Of the 25 firearms officers in the Jersey force, 10 are qualified to carry Tasers. Training is expected to be completed by October.
Sgt Dean Mitchin, from Jersey Police, said they would only be used in exceptional circumstances.
'Still lethal'
He said: "The officers that are training go through a rigorous eight week selection process to become firearms officers, on top of that they have a three day Taser course.
"They are schooled to use every single method open to them before they use lethal force. They need to justify even shouting at people let alone using a Taser."
Senator Ian Le Marquand, Jersey's Minister for Home Affairs, said they were an alternative to using firearms, adding: "These are not theoretical situations."
He said: "Cast your mind back to the tragic events of 2010 when a man murdered six members of his own family with a knife.
"Not having Tasers also makes us vulnerable to civil claims if a person is shot or injured by firearms because a Taser was not available."
Former Jersey policeman and human rights campaigner Bob Hill said he was concerned about the use of the stun guns.
"Tasers are a lethal weapon and although they are less lethal than a firearm, they are still lethal," he said.
"Our concern is that they may be used for restraint rather than going forward with traditional methods."