Kleinwort Benson bank hires experts after media leak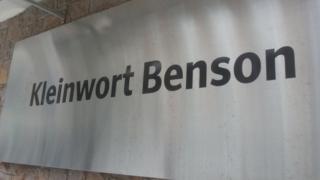 Forensic experts have been hired by a Jersey bank to investigate how thousands of clients' details were leaked to journalists.
The Guardian newspaper says it has information on 20,000 Kleinwort Benson customers, many of them high profile.
It reported on Wednesday that the Conservative party had received £800,000 from companies with links to the Channel Islands.
Direct donations from the Channel Islands are banned under funding rules.
None of the donations were illegal because they were made by UK-registered companies.
The information was provided to the Guardian by the US-based International Consortium of Investigative Journalists (ICIJ) which says it was tipped off.
Details related to Ben Leadsom, husband of UK Financial Services Minister Andrea Leadsom, led reporters to discover that companies he directed were ultimately controlled by Peter de Putron, a financier with close ties to the Channel Islands who is married to the minister's sister, Hayley.
'Fully permissible'
Those UK-registered companies made a series of donations to the Conservative Party totalling £800,000 between 2010 and 2013.
David Leigh, assistant editor at the Guardian, said the donations were legal but would be regarded as questionable.
"If you get your own relations to donate a lot of money and then you get a government job, people might wonder whether the two are connected," he said.
"Nothing illegal has happened but I think many people would regard it as strange and quite questionable."
The Conservative Party said all donations were "fully permissible".
BBC News has been unable to contact Mr de Putron.
A spokesman for Kleinwort Benson said: "We take client and data confidentiality extremely seriously.
"We will take all necessary steps to protect client confidentiality and have engaged external forensic counsel to conduct an urgent investigation into the source of any leak."
On 18 June, BBC News revealed that 20 members of staff at Kleinwort Benson's Jersey office had been warned they could be made redundant.
The Jersey Financial Services Commission said it was aware of the leak but was not prepared to comment.