Jersey senator accused over gay marriage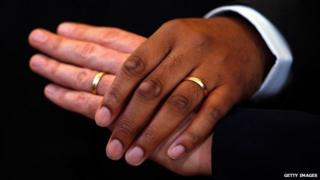 A gay rights campaign group have accused Jersey's home affairs minister of trying to delay the introduction of fundamental rights.
Senator Ian Le Marquand has called for a full review into the impact of introducing same-sex marriage.
Politicians were set to debate the issue on Tuesday but a review could cause this to be postponed.
The group Liberate said each citizen should have the right to marry regardless of sexual orientation.
Senator Le Marquand said a scrutiny panel should review the plans as such a major change in social legislation needed proper consultation.
"It would be wrong and insulting to the people of Jersey that we would seek to make such a decision without having embarked upon a detailed study which considered all aspects of the matter," he said.
Deputy Sam Mezec, of Reform Jersey, brought the proposition which calls for the introduction of same-sex marriage.
"It is a pointless attempt to delay an inevitable move that will be taken in Jersey one day and States members should have the courage of the convictions and not delay it simply because it is an election year," he said.
Jersey's government introduced civil partnerships for same-sex couples in 2012.