Jersey Airport runway changes due to 'poles shifting'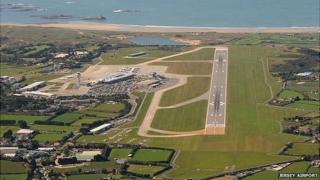 Runway designations at Jersey Airport will have to change due to the movement of the magnetic poles.
The designators are the two digit numbers displayed at the each end of a runway showing its direction to the nearest 10 degrees.
They are used by pilots during take-off, landing and taxiing and are part of Civil Aviation safety regulations.
The drifting magnetic poles mean the numbers are no longer accurate to 10 degrees and will be changed in October.
'Runway hasn't moved'
Planes navigate using instruments such as a magnetic compass, which use the magnetic pole rather than the true north pole.
Michael Stephens, project manager, said: "The runway hasn't moved, the heading it is on has changed because we're basing it on something that moves."
The runway at Jersey Airport has been designated as 09/27 since 1952.
As the heading are now 084.38 degrees and 264.39 degrees respectively it will change to 08/26 from 26 October.
The change involves upgrades to various IT systems, creation of new airfield mapping and air traffic services manuals and communications with private and commercial pilots.
Work to repaint the designator numbers on the runway and the replacement of taxiway signage is expected to start on 15 September.
The runway is not expected to need further changes for another 56 years.