Jersey falcon chicks ringed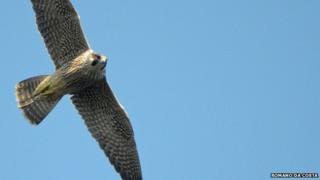 A brood of peregrine falcon chicks has been ringed for the first time in Jersey since the species disappeared from the island in the 1950s.
The breeding site on the north coast has been monitored by ornithologists for the last few weeks.
The chicks have been fitted with individually marked rings for future identification.
There are now seven pairs of peregrines on Jersey, four of which have bred successfully this year.
The first pair to return to Jersey were spotted in 2000.
'Parents not happy'
Cristina Sellares, Birds on the Edge Officer, said ringing the chicks helped conservation workers track the birds and assess overall environmental health.
"A top predator is a good sign of the health of the natural community so this is telling us our coast is recovering and becoming a good habitat for all community members," she said."
The ringing operation was quick and did not harm the birds, said Ms Sellares.
"When you're ringing, the mum and dad stay flying in the area not being very happy about it.
"Sometimes they attack people but they didn't this time.
"Once it's done the parents go back to the nest and start feeding as if nothing happened."