Plemont crime proceeds plan 'a misuse of funds'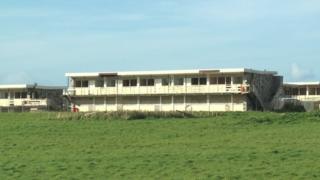 Plans to use £3m of confiscated crime proceeds to free up other money for the purchase of an island beauty spot have been branded a "misuse of funds".
Legally, the Criminal Offences Confiscation Fund (COCF) can only be used for crime reduction.
Ministers now want it to pay for a new police station so that non-ring-fenced police station funds can go towards the proposed £7.1m Plemont purchase.
Treasury Minister Philip Ozouf said the circumstances were "exceptional".
The owners of the burnt-out former Plemont holiday camp, which has planning permission for homes, have agreed to sell it to the National Trust for Jersey, which wants to turn it back to nature.
But the trust has only half the money needed and wants the States to foot the remainder.
'Smoke and mirrors'
Deputy Mike Higgins said the proposed transactions amounted to "smoke and mirrors".
He lodged a proposition on Wednesday asking States members to unlock £200,000 from the COCF to turn an old workshop into a drop-in centre for an ex-offender rehabilitation charity.
The States will debate whether to contribute to the Plemont purchase at a meeting in early July.
Senator Ozouf said: "If they want to make a decision [on buying Plemont] next week, and want that decision implemented, this is the only way I could do it."
Deputy Higgins said the money should be used for crime reduction.
"What he [Senator Ozouf] is doing by transferring the money to the police and then the Chief Minister's office is totally unacceptable," he said.
"It shows how money is moved round with smoke and mirrors. We have a special-purpose fund meant to be used for a particular purpose and it's going to be misused."
BBC News has repeatedly asked the States to disclose the balance of the COCF.