Jersey criminal fund could pay for beauty spot Plemont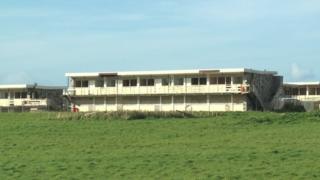 Money confiscated from criminals in Jersey could be used to fund the purchase of an island beauty spot, the Treasury Minister has proposed.
A campaign to return the former Pontins holiday camp at Plemont back to nature has been ongoing for about 15 years.
The site owners have agreed to sell it to the National Trust for Jersey for £7.1m.
The trust said it had half the amount but wants the States of Jersey to foot the rest of the bill.
As money from the Criminal Offences Confiscation Fund (COCF) can only be used towards the cost of policing, Senator Philip Ozouf has proposed a novel solution.
His plan would see the money taken from the COCF and transferred to the fund for moving the States of Jersey police to a new building, which would then be constructed on the site.
Money from that fund will then be given to the Chief Minister's department which will then issue the grant.
Senator Sir Philip Bailhache, who brought the original proposition asking the States to make the £3.57m grant, said: "The old holiday camp at Plemont has been an eyesore on our coastline for far too long.
"I am sure that States members will want to support the huge efforts of the National Trust and seize the opportunity to restore the headland to its natural state for the benefit of Jersey people."
The last time politicians debated the purchase of Plemont, in 2012, members voted 24 in favour to 25 against with one abstention.
The States will debate whether to make the one-off payment at a meeting in early July.