Church makes 'gay infidelity' claim in leaked letter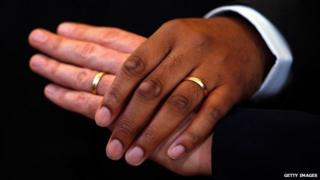 A group claiming to represent a quarter of Jersey churches says infidelity is commonly associated with same-sex relationships.
The draft letter from the Jersey Evangelical Alliance has been leaked to BBC Radio Jersey.
Reverend Mike Taylor chairs the alliance and is asking church members and ministers to add to the letter.
Once finalised, it will be submitted to States members ahead of a same-sex marriage law debate on 1 July.
Deputy Sam Mezec, who campaigns for same-sex marriage, says the letter is "sinister".
'They are wrong'
The authors of the letter say same-sex couples already have civil partnerships and a "small minority" should not be allowed to change the definition of marriage.
"Equality is not to be equated with sameness," the letter reads.
"Rather than extending the benefits of marriage to same-sex couples, redefining marriage would introduce the instabilities and infidelities commonly associated with homosexual relationships into society's understanding of marriage."
Deputy Mezec lodged the same-sex marriage proposition and is angered by the letter's contents.
"It's incredibly intolerant and represents the worst of what some secular people see in religious attitudes," he said.
"It's an intolerance that to me doesn't represent what I've read about this guy Jesus and what he said."
Pippa McCathie, of the pan-island gay rights campaign group Liberate, said she would like to see the evidence behind the infidelity claim.
"They are wrong," she said.
BBC News is awaiting comment from the Jersey Evangelical Alliance.