Jersey gorilla Indigo named Island Games mascot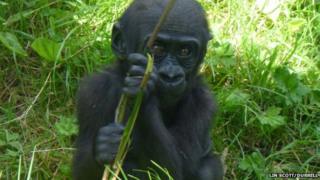 A young silverback gorilla born at Durrell Wildlife Park in Jersey has been named as the 2015 Island Games mascot.
It is the first time a living ambassador has been made the mascot.
Indigo, who was born in 2012, was the first new gorilla birth at the park in a decade.
The Island Games will see thousands of athletes from small islands around the world head to Jersey to compete in a range of sports.
Organisers say Indigo was chosen to represent the spirit and values of the games because of his youth and energy.
Phil Austin, chairman of the Jersey 2015 organising committee, said toy versions of the Silverback would be sold to raise money for the Durrell Wildlife Conservation Trust.
He said: "Indigo is young, energetic and active, and with the right encouragement, diet and exercise will grow into a strong Silverback.
"It is similar for the thousands of competitors who are preparing to come to Jersey. Their attitude, dedication and general wellbeing will all help shape whether they are able to represent their island, and how well they do when they are here."
Lee Durrell, Honorary Director of Durrell, said she was thrilled Indigo had been chosen as a mascot and would impress visitors with his "lively antics and boyish charm".