Jersey politicians' pay meeting attracts six people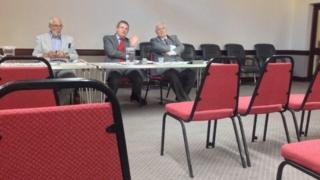 A public meeting to discuss how much politicians should be paid attracted an audience of three islanders, two politicians and a BBC journalist.
A panel reviewing States pay arranged the meeting on Wednesday evening to gather views on a range of issues.
The panel will examine whether ministers should be paid more than back-benchers, despite the idea being rejected by politicians.
The turn out was "pretty normal", according to chairman Julian Rogers.
Chairman of the body responsible for States members, Deputy Jeremy Macon, said it was not unusual for public meetings to be poorly attended.
He said: "Part of the problem, as we have seen from the social survey, is that they don't know enough about what States members do and want more visibility of what we do."
The St Saviour deputy said the problem was that when members arranged meetings, people did not turn up. He said he had to drop his constituency surgeries due to poor attendance.
Mr Rogers said the review body had already taken over 30 written responses, and was hoping for more.