Second 'arson' attack at abandoned Plemont holiday camp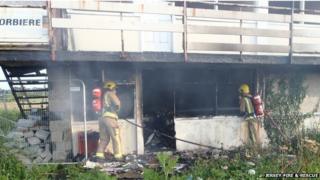 A fire at the derelict Plemont holiday camp, the second this year, was probably arson, say police.
A chalet at the former Pontin's venue, which was being used as a book store by a charity, was set alight on Sunday.
The police want to hear from the owners of a red moped and a silver car seen leaving the area on Sunday afternoon.
In January, a major fire destroyed the large sections of the abandoned complex in an incident which firefighters believed was started deliberately.
Authorities do not know for certain what caused the previous fire because it left the building too dangerous to enter.
The site is currently the subject of a drawn-out planning dispute.
Developers want to build housing but the National Trust for Jersey is trying to raise millions of pounds to buy the site and return it to nature.