New homes and supermarket for St Helier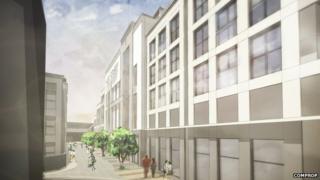 Finalised plans have been submitted for a £30m supermarket and residential development at the disused Ann Street Brewery site in St Helier.
Developer Comprop has owned the site for eight years and has been consulting on the plans since 2010.
The latest proposal includes 41 homes and a supermarket run by Guernsey retailer Alliance, which will sell Tesco products from the site.
Some small retailers worry another supermarket will destroy businesses.
Steve Marie, managing director of Comprop, said the development would support local jobs.
'Enough supermarkets'
"If approved, we will be looking to engage local contractors, so supporting the local workforce during the build process," he said.
"The result will be a new supermarket facility... job creation within the island, support for local businesses supplying ancillary services to the supermarket, as well as the refurbishment of historic buildings."
Susana Andrade, a florist at St Helier's Central Market, opposes the supermarket, saying it would destroy business for traders.
"I don't think Jersey needs another supermarket. We are a very small island and we have enough supermarkets," she said.
"We are very worried, the traders in here."
In May, Alliance announced it would also be opening another smaller Tesco-based shop in St Helier.