Springfield Stadium pitch plan approved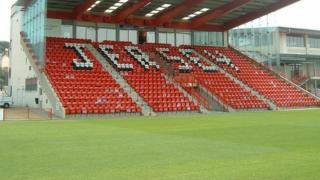 High-tech artificial turf is to be installed at Jersey's biggest football ground following changes to earlier plans.
The £500,000 '3G' pitch was proposed for Springfield Stadium last year and is backed by the Football Association in England.
In May, a planning committee rejected the proposal over concerns about fencing and a nearby play park.
The new pitch will prevent fixture backlogs caused by poor conditions.
Rob Duhamel, Minister for Planning and Environment, approved the revised plan following a site visit.
He said: "With the changes agreed, I am confident that Springfield Stadium will continue to offer an important community facility while catering for the changing needs of our sporting public.
"The creation of a 3G pitch will extend the stadium's use for a wide variety of community, sporting and schools users."
Phil Austin, president of the Island Games committee, said the decision provided clarity.
"It is a very important part of our island games planning," he said.