Sally Minty-Gravett completes Sark to Jersey swim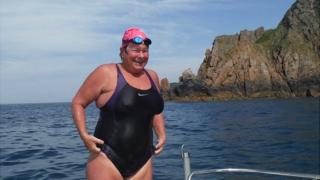 Channel swimmer and Olympic torchbearer Sally Minty-Gravett has become the first woman and only the second person to swim from Sark to Jersey.
The seasoned swimmer, who has crossed the English Channel five times, arrived at Grosnez in Jersey after an eight hour and 42 minutes swim.
Mrs Minty-Gravett, 57, said: "I've done it at last, I've been talking about doing it since the 1980s."
She said the hardest bit was battling strong currents as she neared Jersey.
Mrs Minty-Gravett said: "I'd always thought it'd be good to do because nobody had ever done it.
"Neil Faudemer did it three years ago from a different part of Sark... so technically it's two different swims.
"That gave me all the more incentive to get it done quickly... it was nice to be the first."