Jersey orangutan goes through menopause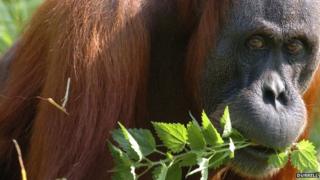 Orangutans and humans are even more alike than previously thought, doctors in Jersey have found.
A female at Durrell wildlife park is believed to have gone through the menopause, the first time this is known to have been medically recorded.
Orangutans and humans share 97.6% of their DNA.
Confiscated from smugglers in the 1960s, 'Gina' has given birth to seven young and staff were testing her to see if she could breed again.
Gina was also the first orangutan to give birth by caesarean section.
Academics previously believed humans' ability to live beyond their reproductive age was one indicator that people were more evolved than other great apes.
Neil MacLachlan, a consultant obstetrician at Jersey General Hospital, was asked by Durrell staff to conduct testing on Gina in preparation for breeding.
"I suppose that I'm not totally surprised to find that orangutans have a menopause," he said.
"They really are so very similar to humans. Indeed, it looks as if they go through the menopause at a very similar age.
"This will allow breeding programmes to be better managed."
An ultrasound examination of Gina's endometrium, uterus and vagina revealed signs of what in a human would indicate a "post-menopausal reproductive system".
Further anti-mullerian hormone tests, which estimate egg supply, confirmed the diagnosis.
Durrell's head vet Andrew Routh said the park was fortunate to have the help of the hospital.
"Working with the team at the wildlife park we have, together, been able to make huge advances in the reproductive healthcare and breeding management of these incredible apes," said Dr Routh.
The research features in a Channel 4 documentary on Sunday, 22 June.