Telecoms firm Nitel blames regulator for lay-offs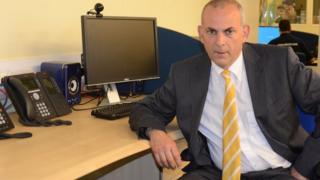 A Jersey businessman fears his telecoms firm could go out of business in months because of the island's "anti-competitive" regulation.
David Ezekiel, owner of Nitel, said he has already laid off two members of staff.
He blamed Channel Islands competition regulator CICRA for allowing state-owned operator JT Global to retain exclusive use of Jersey's phone lines.
JT denied it acts improperly while CICRA said it is addressing the issues.
Since JT began selling the same phone systems as Nitel two years ago, Mr Ezekiel claims sales have dropped 40%.
'Turnover collapsed'
In an open letter to island politicians, Mr Ezekiel said: "Because JT retains the monopoly... all work carried out by Nitel has to be notified to JT as the network operator, with letters of authority from our clients.
"This means that JT are always informed of our business dealings and over time our clients are now, almost invariably, offered cheaper arrangements by JT.
"In consequence our local business turnover has collapsed."
A JT spokesman said: "Our sales team is under strict instructions not to approach [Mr Ezekiel's] clients.
"We would just like to say once again, for the record, that we totally reject the accusations which Mr Ezekiel levels against us; JT has acted properly in all our dealings with him."
Gary Whipp, CEO of Newtel, a different company, said the biggest problem is that customers have no choice of service provider.
He said businesses and consumers are the biggest losers.
"If there was access to JT's infrastructure on a fair and equitable basis a lot of the customers here would be saving a lot of money.
"It's damaging to the customers' businesses and it is anti-competitive."
A spokesman for the regulator said: "CICRA is engaged in progressing a number of the matters, referred to in the letter circulated to States members, which are set out in CICRA's work programme.
"The outcome of those reviews will be published over the coming weeks and months."