Job cuts loom at Kleinwort Benson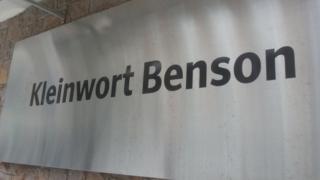 One of the first merchant banks to establish a presence in the Channel Islands has announced it could make 20 members of staff redundant.
Kleinwort Benson, now a private bank and wealth management company, set up offices in Jersey and Guernsey in the 1960s.
It employs 140 staff in Jersey but says it is "considering changes".
The bank was acquired by Dresdner Bank in 1995 but became independent again in 2010.
A Kleinwort Benson spokesperson said: "As part of reviewing how best to deliver a quality service to clients we're considering changes to our business in Jersey, and as a result around 20 jobs may be affected of the 140 staff we have in Jersey.
"We are entering into a period of consultation with our staff and cannot give any more details."