Jersey offering 'no help' for gambling addicts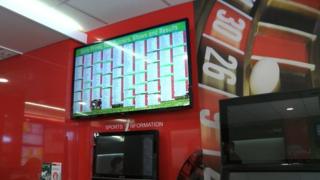 As the 30th betting shop opens in Jersey one gambler claims not enough is being done to help those with an addiction.
The self-confessed compulsive gambler, "Paul", not his real name, says his addiction almost cost him his marriage. He says he has lost most of the value of a house over his lifetime.
He said there were no specific gambling services in the island, but that the government does provide services for alcohol and drugs addiction.
"Gambling addiction has the same problems as drug and alcohol addiction. The difference is there are no physical outward signs of gambling addiction but the problems are just as severe.
"There is nobody on the island specifically trained to deal with gambling addiction supported by the States of Jersey," he said.
Jason Lane, from the Jersey Gambling Commission, said there was help available for addicts if they wanted to take it.
He said: "Our Social Responsibility Panel is currently evaluating past experience from colleagues in the Health Service to try and get a rough idea of the level of problem gambling.
"If people want anonymous online help they can go to our gambling therapy website, which is a dedicated resource funded by the panel."
The island has a population of 100,000 and with the 30th betting shop opening, there is now one shop for every 3,333 people. There are 18 within a mile of each other in the island's capital, St Helier.
Mr Lane said this was the first increase in the number of betting shops for 50 years.
"We've had 29 operators for 50 years and we don't think that there's a big issue with over or under supply in the market," he said.
The 30th shop is being opened in St Helier's Broad Street, a popular lunchtime stop for office workers. It is operated by Guernsey based Galliennes.
Owner Trevor Galliennes said he was opening in Jersey to test the market before a possible expansion to the UK.
Paul said over his lifetime he has probably lost about £250,000 gambling. His lowest point came when he lost £3,000 in an online bet.
"I won the money but the website makes you wait three days to withdraw your money, I couldn't wait even 24 hours and lost the lot. It was then that I realised I needed help," he said.
"At that time I had about £20,000 worth of debt and that is when my fiancee at the time found the bank statements and said I needed to sort myself out. It was a Monday and I drove out of the house and went to my first Gamblers Anonymous meeting," he said.
He said his gambling addiction started when he was eight-years-old, betting on games in the school playground including throwing a coin against a wall.
Paul is now a member of Gamblers Anonymous in Jersey, a group that meets regularly to support each other through their addiction.
He said the number of people attending meetings had doubled in the past year from about five to about 10, although the number rises over Christmas.
"We are a small group compared to the UK where they have 20 to 25 people from a population of 300,000," he said.
"To get 10 at a meeting here out of 100,000 people is fantastic, but it doesn't reflect the number of compulsive gamblers on the island."
He said it is not really possible to know exactly how many compulsive gamblers there are in the island, but he points out the higher proportion of betting shops as an example of a problem.
"In the UK there are five or 10 [betting shops] per 100,000 people making money. In Jersey there are 30 bookmakers and so if that many are sustainable on the island there must be a larger percentage of gamblers using them."
Paul says he has been attending Gamblers Anonymous for about 12 years and has been free from gambling for about nine or 10 of them.
He said gamblers do not just gamble with money but also with their life as there are not many people that would tolerate a loved one gambling away their life savings.
"When the fixed odds betting terminals first came in I started gambling again and in February last year my wife found out and asked me to leave. I felt at the time my marriage was over due to gambling.
"With a lot of work, and I now haven't had a bet in over a year, things are going well. We are moving forward," he said.
Last year the Association of British Bookmakers said there were about 8,700 betting shops in the UK, a number that had been stable for 10 years.
According to the NHS there are about 450,000 problem gamblers in Britain. People with a problem can contact Gamblers Anonymous.