Jersey Royal Company has 'best potato growing season'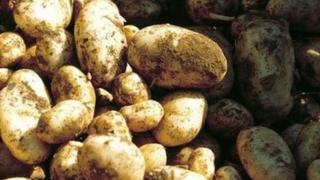 A potato company says it has had the "best growing season in living memory" after favourable weather boosted the crop size.
The Jersey Royal Company said plants had been producing double the number of potatoes.
However, the weather has also led to oversized potatoes which the firm might not be able to use.
The crop, which was worth nearly £30m to the island in exports last year, depends on an early harvest.
'Chalk to cheese'
William Church, of the firm, said: "Last year, each plant was producing between four and six potatoes, [but] this year plants are producing between 10 and 12.
"It's been a little bit of rain, little bit of warmth, no frost or harsh winds so the quality and availability has been fantastic.
"This time last year, the crops were really hammered by weather conditions... we've gone from chalk to cheese."
But, Mr Church said the potatoes had grown so well that some were oversized, and "there will be a proportion which will be no use to us".
He said that some fields had grown so well and potatoes had grown so big, up to 50% could be wasted, but other fields will be "spot on".