Jersey care inquiry start date revealed as 22 July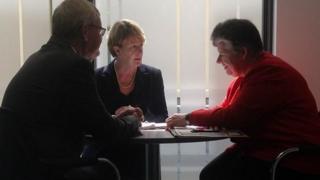 The start date for an inquiry into allegations of historic child abuse in Jersey's care system has been announced.
The Independent Jersey Care Inquiry will begin hearings on 22 July 2014.
The year-long £6m inquiry will probe reports of abuse in the island's children's homes and fostering services from 1960 to the present day.
Screens have been erected in Seaton Place, where the inquiry will be held, to protect witnesses' identities.
Evidence summons
At a preliminary hearing on Monday, Chairperson Frances Oldham QC said they would start by hearing from experts to give a background on the care system.
She said they would then hear from those accused of abuse and in contact with those in care.
Ms Oldham gave the health department seven days to comply with a summons for documents.
She said: "In reference the health and social services department, the panel requires immediate compliance and documents from the redress scheme within seven days."
The information was summonsed by the inquiry and included health records and statements of the 132 people applying for compensation under the abuse redress scheme.
Advocate Beverley Lacey representing the health and social services department said the minister, Deputy Anne Pryke, felt consent should be sought from people named in documents.
She said: "132 claimants came seeking compensation under a confidential arrangement. That required psychiatric assessment and access to medical records.
"A number of those people have said they want nothing to do with the inquiry. The minister is saddened the inquiry went down the summons route.
"When applying claimants had no idea records would be revealed. Is it necessary to force disclosure of private information."
Legal counsel for the inquiry Patrick Sadd disputed that, saying it would take too long to get consent from everyone involved and anyone named in statements.
He said "There is no legal basis that justifies non-compliance with the summons.
"The inquiry will not be able to work without the documentation. It must be prioritised and disclosed as soon as possible."