Jersey shopkeeper Neil Bennett guilty of stabbing business partner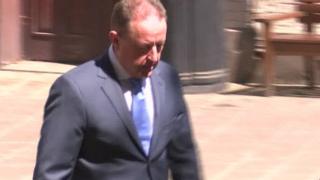 A shopkeeper has been found guilty of stabbing his business partner by Jersey's Royal Court.
Neil Bennett, 49, was remanded in custody after stabbing Justin Sumrie after a drinking session in September last year.
Mr Sumrie, who lives in the UK, was on a visit to the island to check on the business, a clothes shop called White Collar in Broad Street.
Bennett will return to court for sentencing in August.
The court heard Bennett attacked Mr Sumrie "completely out of the blue" with a kitchen knife, stabbing him deeply in the chest and twice under his arm.
Mr Sumrie was transferred to a hospital in Southampton, England, where he spent nine days. He has since made a full recovery.
Prosecutors say the pair were in Bennett's St Saviour home when he stabbed Mr Sumrie, who ran outside and collapsed.
The court heard Bennett stabbed his business partner so deeply it pierced his liver and left him in intensive care.
Bennett's defence had argued Mr Sumrie had struck first after being told he could not use the shop to hide money from his wife during their divorce.
But the jury agreed with the prosecution that Bennett was "menacing" and "unrecognisable" as he stabbed Mr Sumrie in his house.
Much of the evidence over the three-day trial was about the business, with the prosecution arguing it was on the brink of bankruptcy last September.
The jury heard the men's 15-year friendship spilled over that night after an evening of heavy drinking.
The judge Peter Beaumont agreed with Advocate Matthew Jowitt that Bennett was "unpredictable" and "potentially dangerous" so should be remanded in custody before being sentenced in August.