Jersey shopkeeper Neil Bennett denies stabbing business partner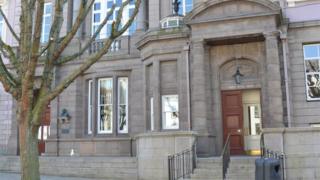 A Jersey shopkeeper has gone on trial in the island's Royal Court accused of stabbing his business partner.
Neil Bennett, 49, denies one charge of grave and criminal assault.
The prosecution says Mr Bennett attacked his business partner Justin Sumrie after a drinking session in September last year.
Mr Sumrie, who lives in the UK, was on a visit to the island to check on the business, a clothes shop called White Collar on Broad Street.
The court heard Mr Bennett was worried about keeping up with rent payments for the shop and was keen to get hold of £3,600 Mr Sumrie had with him.
Prosecutors say the pair were in Mr Bennett's St Saviour home when he stabbed Mr Sumrie, who ran outside and collapsed.
Defence advocate Michael Preston said Mr Sumrie had in fact attacked Mr Bennett.
Advocate Preston also accused Mr Sumrie of lying over claims of how much Mr Bennett had drunk.
"If Mr Bennett was so drunk why were you having a business discussion with him?" he asked.
Advocate Preston argued that the victim had been having money and marriage problems and had used the Jersey shop to commit VAT fraud by ordering cufflinks worth £3,000 each before taking them to sell in the UK.
The trial is expected to last all week.