Plans to demolish Gorey's ex Catholic church scrapped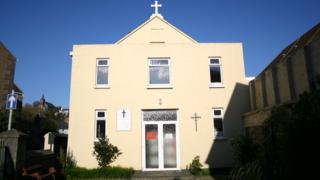 Plans to demolish a disused Catholic church in Jersey have been rejected.
More than 100 islanders signed a petition against the proposals to build houses on the site in Gorey.
In the rejection the officer's report said "there were high level objections received of an international nature - reaching far beyond the shores of Jersey".
The 19th Century building became a Catholic church in 1954 and closed in May 2013.
'Accept and adapt'
Resident Fraser Martin said it should be turned into a Christian outreach centre.
"We could create a drop-in centre where people will always be greeted with a hot drink and a smile. The possibilities are endless," he said.
In the planning assessment, the officer said: "Whilst this community facility is clearly underused, there may be a way forward in terms of bringing it back into use rather than demolishing it."
The East of Jersey Catholic Church originally said houses were the best option for the site.
Following the decision, Monsignor Nicholas France, the Catholic Dean in Jersey, told BBC News: "We'll accept and adapt accordingly.
"It's now in the hands of the planners and architects to find a more acceptable plan."