Jersey prison population at record low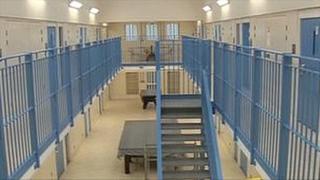 Jersey's prison population is at its lowest in recent memory, according to figures seen by the BBC.
There were 133 prisoners at La Moye prison by the end of May.
The Home Affairs Minister said this had been driven by reduced importation of heroin, better rehabilitation and repatriating foreign prisoners to serve their sentence in their home country.
Jersey authorities are "close" to repatriating a Portuguese prisoner for the first time.
Official estimates suggest up to 8,000 of Jersey's 99,000 population is of Portuguese origin, a proportion broadly reflected in the prison population.
Home Affairs Minister Ian Le Marquand says repatriation has accelerated the declining prison population.
The States has been able to repatriate EU prisoners since 2012 but have been unable to return Portuguese prisoners until now.
"Progress has been slow with Portuguese prisoners but we're close to sending our first one back," said Senator Le Marquand.
"This may be because of the number of prisoners they already have in their prison system."
Serious drugs or violence
Mr Le Marquand said repatriation could happen without prisoners' consent but connections to the island would be taken into account.
"The difficult area is people who have been here a number of years who have committed very serious drugs or violence cases," he said.
Foreign prisoners in Jersey are not automatically deported at the end of their sentence.
Carlos Jorge Santos Costa, Portugal's Honorary Consul in Jersey, said: "For the ones who have no family or relation here it's much better for them to go to prison there [in Portugal] and for us in Jersey it's more economical.
"For the ones who have family here I don't think they will appreciate going back."