Jersey States to spend £75m on sewage plant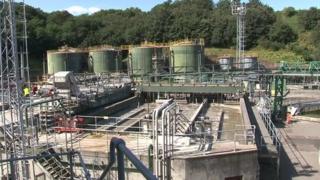 A new sewage treatment plant costing £75m and other network upgrades have been approved by Jersey's government.
The current plant at Bellozanne was built in 1959 and has been described by the States as "struggling to meet modern standards".
The new plant will form part of a wider strategy for handling waste water.
Chief Minister, Senator Ian Gorst said millions of pounds would be required over the next 20 years from a variety of government sources.
Other parts of the strategy will see improvements to the sewage network and help for households not connected to mains drains.
Steve Fisher, director of waste strategy, said the current plant could not be brought up to standards.
Replacing the 570km (354 miles) of surface water sewers, foul sewers, combined sewers and rising mains over the next 20 years is estimated to cost £135m.
Environment Minister, Deputy Rob Duhamel, claimed he could not support the strategy because it did not take note of green ideas or alternative solutions for dealing with waste, but he did end up voting in favour of the strategy.
He said: "The alternatives that could deliver a better, more sustainable, more environmentally friendly, or if you are not interested in that direction, a cheaper set of alternatives for the longer term, have to be discussed in a sensible framework and that has not happened.
"I have two responsibilities, one for the overall environmental conscience, and from that point I don't think I support it. But also the regulatory point of view, to minimise pollution problems.
"I think sufficient work has been undertaken by my department on that, and they are happy."