Sailors warned over marina gate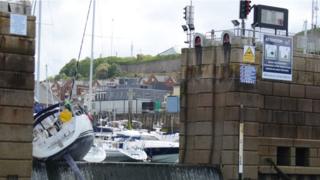 Jersey's harbourmaster has issued a warning to sailors after a yacht became caught on a marina gate, the fourth such incident in two years.
Barry Goldman says the issue keeps him awake at night.
The marina cannot be accessed at low tide and at half tide a gate is raised to keep water in and vessels afloat.
Mr Goldman has revised guidance to sailors and has permanently switched off green lights by the marina gate to avoid confusion.
Jersey's 12-metre tidal range is one of the biggest in the world.
'Sitting on gates'
"Because of the range of the tide that we have here the marinas have to have the water locked in," said Mr Goldman.
"At the beginning of the week, and this is one of the things that keeps me awake at night, we had a boat that was try to depart on a falling tide and ended up trying to cut it too fine and ended up sitting on both of the gates."
The yacht was grounded for six hours and had to be hoisted from the water afterwards for a safety check, at the owner's cost.
Harbour authorities believe the French yachtsman misinterpreted a green light and a sign indicating the depth of water above the sill.
"We've done a lot to try an discourage people and create greater awareness by putting up sings and warning notices and I'm afraid despite all of that there was a clear misunderstanding," said Mr Goldman.
The updated guidance will be translated into French and issued to all visitors.