Bomb found on Jersey beach detonated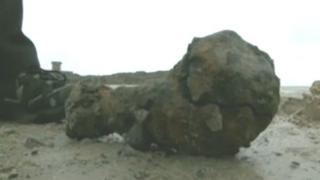 A German mortar bomb found on the beach at St Ouen in Jersey has been detonated by bomb disposal experts.
The World War Two bomb was spotted by a member of the public on Wednesday afternoon, when it was uncovered by the tide.
A cordon was put up, but when the bomb disposal officers got to the site the object was already back under water.
The team returned to the site on Thursday afternoon and it was successfully detonated.
The German army used the area around Le Braye to test fire different kinds of weapons during World War Two.
The winter storms earlier this year revealed previously covered parts of the beach at St Ouen, including old trees and large rocks.