New Jersey electricity cable 'will be more secure'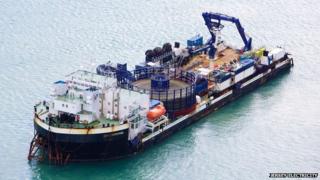 A power line being laid between Jersey and France will be more secure than the existing connection, Jersey Electric chief executive Chris Ambler has said.
He was speaking as he inspected the cable-laying barge visible from Jersey's east coast.
It has laid 21km (13 miles) of the 32km (20 mile) Normandie 3 cable connecting the island to France.
The Channel Islands suffered a major power cut in January because of a fault which originated in France.
Mr Ambler said the new cable was "separate and resilient" from the existing connector, Normandie 2.
"It's also going to be buried all the way and connected to a different part of the network in France; a much more secure part," he said.
The 100MW Normandie 3 supply line is being buried two metres (6ft) beneath the seabed by the Cable Enterprise vessel.
The 7,000-tonne barge, operated by Prymsian Powerlink, is visible from Gorey as it edges towards Long Beach, where it is due to arrive in mid-June.