French yacht stranded in St Helier harbour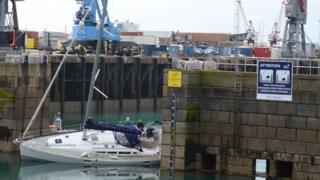 A French yacht was stranded at low-tide in St Helier harbour on Monday.
The visiting vessel, called Little Big Boat, was attempting to pass through the harbour gate when it became stuck.
Access and departure at that part of the harbour are only possible at high tide and there are prominent warnings displayed by the gate.
A spokesperson from the Ports of Jersey said engineers have checked the marina gates and no damage has been reported.