Jersey States to introduce minimum rental standards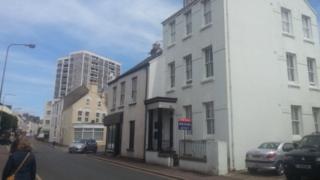 Rental properties in Jersey will have to meet minimum standards in future, after a vote by politicians.
Members voted 32-6 in favour of the proposition by Deputy Montfort Tadier that includes an investigation of rent price controls and landlord register.
Deputy Tadier said the move would make sure properties in the island were suitable for people to live in.
At present, there are no controls in place for private rental properties on the island.
The St Brelade Deputy said a decrease in the number of rental properties was possible, as some landlords would leave the market rather than improve their properties.
He said: "We don't want the unviable businesses. If they are not meeting basic standards and can't afford to do it, they should make way in the market for those who are viable landlords and can meet the [suitable] supply."
Deputy Tadier said standards could include a central heating requirement, basic amenities including a bath, sink and kitchen as well as insulation.
'Full of filfth'
St Clement Deputy Gerard Baudin, a member of the housing committee in the late 1990s, said it was not all down to bad landlords.
He said: "I think we are losing the balance of the argument because we are saying there are big bad landlords, but when you go into a property which is full of filth and totally neglected, that is the tenant's fault.
"We also need some protection for landlords as they can face serious problems with their property damaged."
Deputy Tadier said he would like to see the introduction of compulsory purchase if landlords left their properties vacant rather than meet minimum standards.
He said: "If landlords are leaving properties vacant because they don't want to meet minimum standards, then we as a government need to impose sanctions.
"We will say if you leave the property empty we will have rates that go up exponentially as the years go buy and we may even compulsory purchase your property."