States to set maximum taxi fares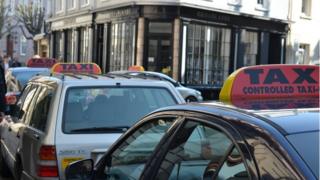 The States will soon set the same maximum tariff for all types of taxi in Jersey, says the transport minister.
Currently, taxis using public ranks have fares controlled by the minister but private hire companies are free to set higher prices.
Deputy Lewis says a recent consultation found passengers were confused by the system.
He has written to all taxi companies to notify them of his plan.
"As part of the questionnaire we put out, 87% of the public asked for a standardisation of taxi fares," said Deputy Lewis.
"I think across the board everybody supports a simplified system so the customer knows what's happening.
"The customer doesn't want a two-tier system."
Deputy Lewis says he is supported by the Jersey Cab Drivers Association and the Jersey Taxi Drivers Association.
'Charging the same'
Nicola Erickson owns private hire company Liberty Cabs and supports regulated maximum prices, although she says tariffs should be higher for private bookings than for journeys beginning at public ranks.
"The rank taxis have a rank provided for them and don't have to drive to a destination to pick up, whereas in private hire we do and it can involve quite a bit of mileage," she said.
"All the private hires should be charging the same but there should be a difference between private hire and the rank. Our overheads are an awful lot more."
Deputy Lewis says other proposals for the industry may require changes to the law but he already has powers to set public rank and private hire tariffs.
He has advised all taxi companies he will be arranging a series of meetings to determine appropriate maximum tariffs that could be introduced "at an early date".